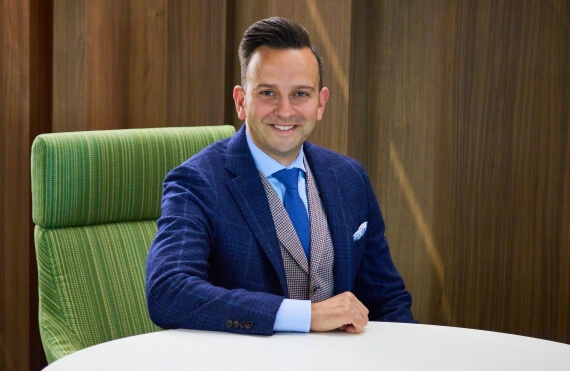 ZURICH – General Motors today named Mahmoud Samara to lead a non-traditional start-up in Europe, leveraging GM's global strategy.
Samara is currently Vice President, Cadillac North America Sales, Service and Marketing, and will begin as President and Managing Director of GM Europe, from December 1. He will be based in Zurich, Switzerland, and report to GM Senior Vice President and President GM International Steve Kiefer.
Kiefer said that GM was appointing a top talent from a senior role in the business to lead the transformation of its European operations.
"Mahmoud comes to this role with a really impressive track record in delivering a world-class customer experience, as well as growing sales in the North America Cadillac business," said Kiefer.
"His mission is to transform our current operations into a non-traditional mobility start-up in the region, identifying entrepreneurial opportunities to commercialize our global growth strategy investments in Europe. We will make very deliberate decisions about where and how we compete in Europe."
Samara said he was honored and energized to have the opportunity to build and lead a nimble start-up business in Europe for GM.
"Europe is the second largest and fastest growing electric vehicle market in the world, presenting a significant opportunity as GM is about to roll out its comprehensive and cutting-edge EV and AV portfolio along with new and innovative software, autonomous technology and freight and logistics services," said Samara.
"Over the coming months, our team will develop our plans to bring our best products and services to customers in Europe and help build a cleaner and better future."
Learn more about Mahmoud Samara and his early priorities for Europe here.
Samara brings with him a wealth of international experience in the automotive business enabling him to leverage the latest industry developments to initiate a fresh approach in Europe. He has been with GM since 2004 and held multiple leadership positions in GM Middle East and GM North America in the areas of Sales, Marketing, Aftersales, Manufacturing, and Customer Experience. Most recently he has been in-charge of sales of 200,000 new Cadillac vehicles annually in North America. His previous roles include Global Director, Customer Experience (CX) responsible for leading CX transformation strategies for digital and dealer customer experiences, Cadillac Regional Director responsible for sales, service and retail marking in Western Region, Managing Director for Cadillac Canada responsible for all overall Cadillac operations, along with various leadership roles in manufacturing at the Oshawa Assembly Plant as well as sales and marketing roles in the Middle East & Africa.
Samara earned a Master of Business Administration from Findlay University in Ohio and a Bachelor Degree in International Business from the University of Toledo in Ohio. He also undertook Transformational Leadership and Design Thinking at Stanford Graduate School of Business.
###
General Motors (NYSE:GM) is a global company focused on advancing an all-electric future that is inclusive and accessible to all. At the heart of this strategy is the Ultium battery platform, which will power everything from mass-market to high-performance vehicles. General Motors, its subsidiaries and its joint venture entities sell vehicles under the Chevrolet, Buick, GMC, Cadillac, Baojun and Wuling brands. More information on the company and its subsidiaries, including OnStar, a global leader in vehicle safety and security services, can be found at https://www.gm.com.